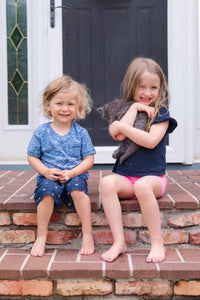 This is Fox and this is Goose, oh and we can't forget their best friend Purl the cat.
Fox & Goose came to life through a love of laughter. We believe that the best way to get through any sort of adversity you may be facing is through laughter and embracing what you can learn in those difficult moments. When you can't control what is going on around you (and really, how often can you?) we believe you can control your mindset through movement, laughter, and connection with others through stories.
Our mission is to create positive stories that share life changing lessons.
Creative stories are our way of joyfully impacting the world and helping you believe that there is beauty in every moment. As difficult as life can be, if we place love and connection above all we will all thrive.
Our family studio came to life mid-pandemic as we did everything we could to control our mindsets.
We started sharing jokes in the mid summer months as we played on the beach and sat in the boat. Many of those jokes didn't make sense, typical when toddlers share them, but of course we laughed anyway. Any time we started getting down or feeling pulled toward negativity we shared our favorite go to jokes.
When we launched our first joke book we never knew everyone would love it as much as we did. We started receiving videos of children all over sharing their favorite jokes and making up their own. It meant so much that other people were finding joy in such a difficult time so it became an even bigger dream.
Our full studio where we share inspirational stories through films and books is still in the works and we are so grateful you are on this journey with us. None of this would be possible without you!